NXEC5200mAh/100C-2S2P-HV 7.6V (Shorty Pack)
TIME:2018-11-30 15:52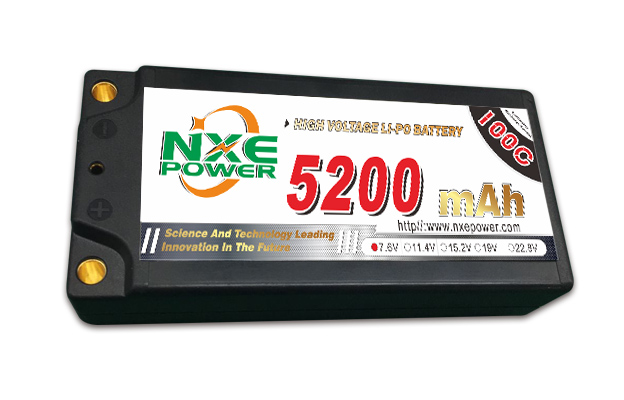 Parameter
Specification:
Model No.: NXEC5200/100-2S2P-HV (Shorty Pack)
Typical capacity : 5200mAh
Typical Voltage: 7.6V
Dimensions: 25.1*46.5*95.5mm
Approx Weight: 212g
Hard Case: Black
Plug: Banana Plug and T-Plug
Continuous Discharge Current: 100C
Burst Discharge Current: 200C
Charge Rate: 1-3C Recommended, 5C Max
RC Lipo Battery Pack Built with the highest quality single cells Engineered and optimized specifically for RC planes and RC cars unmatched energy and power density Increased flight time (about twice that of comparable NiMH packs) Significantly decreased weight compared to NiMH or NiC packs Smaller physical size to easily fit in your RC aircraft No memory effect The ability to supply current at high rate.

Product Advantages:
(1) Adopt the world's key material-LiCo02.
(2) Fully automatic lamination machine with Nano Tech.
(3) Laminated structure, Nano Coat Technology. Advanced Nano ultrasonic welding electrode.
(4) Industry most stringent single cell capacity, voltage, resistance and discharge curve (competition level) matching process.
(5) Strong safety performance and extremely low self-discharge.
(6) Long cycle life, chargeable up to 300 to 500 times.
(7) No memory effect, high discharge and charge current.
(8) No mercury, No fire, No explosion, No leakage.
(9) Quite good and quick charge, capability can be charged to 90% within 10 mins.
(10) Thickness can be adjusted while width and height keep the same.
(11) Light weight and low IR, packed with punch and ready to race.
(12) Good storage performance, Green & Environmental protection without any pollution.
(13) Idea for 1/10 and 1/8 buggy racing and hard case increase safety of the battery.

NXE Power 5200mah 100C 2S HV shorty pack fits both 1:10 off road stock and modified class. Also fitt 1:10 Formula model and 1:10 Professional Drifting model EFRA & BRCA legal
Suitable model: XRAY XB4/XT2/X1, TLR 22, Serpent Spyder/F110, Team Associated B6/F6.
Contact