NXE1300mAh/100C-6S 22.2V
TIME:2018-11-30 14:08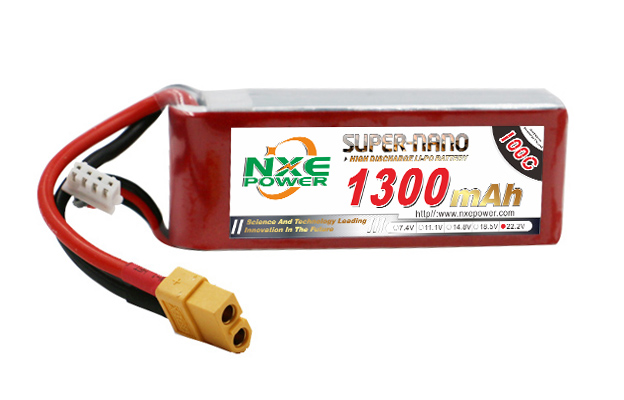 Parameter
Specifications:
Model No.: NXE1300/100-6S
Typical capacity :1300mAh
Typical Voltage: 22.2V
Dimensions: 50*34*75mm
Approx Weight: 237g
Soft Case: Transparent colour PVC, Red Cover
Plug: T-Plug and XT60 Plug
Continuous Discharge Current: 100C
Burst Discharge Current: 200C
Charge Rate: 1-5C Recommended, 10C Max

Product Advantages:
(1) Adopt the world's key material-LiCo02.
(2) Fully automatic lamination machine with Nano Tech.
(3) Laminated structure, Nano Coat Technology. Advanced Nano ultrasonic welding
electrode.
(4) Industry most stringent single cell capacity, voltage, resistance and discharge
curve (competition level) matching process.
(5) Strong safety performance and extremely low self-discharge.
(6) Long cycle life, chargeable up to 300 to 500 times.
(7) No memory effect, high discharge and charge current.
(8) No mercury, No fire, No explosion, No leakage.
(9) Quite good and quick charge, capability can be charged to 90% within 10 mins.
(10) Thickness can be adjusted while width and height keep the same.
(11) Light weight and low IR, packed with punch and ready to race.
(12) Good storage performance, Green & Environmental protection without any
pollution.

Tag: NXE Power 1300mAh 22.2V 100C LiPo battery is availbel for Emax Hawk5, Skylark, ZMR 250, FLIP FPV FRAME, Nemesis 240 Mini, Emax Nighthawk 250, Mini H, QAV250, Danaus, Vortex 285, M4-FPV250, and FPV etc.

Contact